Options When Importing an .IGS .IGES File
The dialog box shown below is displayed only for IGES files because there are a few different entity types that BobCAD-CAM can import from them. IGES import is provided for compatibility reasons with older CAD software. Many modern CAD systems have already removed the ability to export them in recent versions.
Pic. 1 - Foreign File Options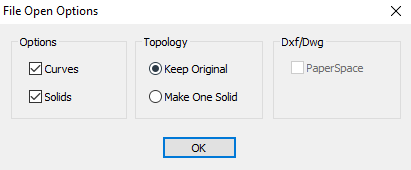 Curves - If the IGES file contains lines, arcs, and/or points, check this box to import them.
Solids - If the IGES file has solids or surfaces, a check in this box imports them as well.
Keep Original - In the case that there are surfaces or solids in the fi le, choose this option to maintain whichever way they were drawn. For example, if the original surfaces are written in the IGES fi le as a solid, this option will maintain the solid on import. If they are written as separate surfaces, it will keep them separate.
Make One Solid - Regardless of whether the surfaces are joined as a solid, this option will join all the surfaces into a single solid on import. An important note is that if the surfaces do not share edge curves, and due to differences in the accuracy specific actions of different revisions of the IGES standard* they often won't, they will NOT be usable as a volumetric solid and will not be able to use the Boolean operations meant for solids. Instead, they will be stitched together as shells (surfaces joined without filling in the space in between) and will have to be repaired by hand from within BobCAD-CAM.
NOTE: There are over 100 proposed extensions to the base IGES v5.3 standard. Many different CAD systems pick and choose which of those extensions to support. Because of this, it is impossible to guarantee that the IGES as imported will be the same as it originally was in the CAD system that drew it. If it is critical that the file imported be precisely the same as the file as originally exported, use another file format instead, such as STEP (.stp).
If you need further assistance, please contact our support team at (727) 489 – 0003 or [email protected]