Modifying the Start Point of 2 Axis Toolpath
When creating a mill 2 Axis Feature and the toolpath is not starting in the correct position follow the steps below to modify the starting location of your toolpath.
Step-by-Step 
1.  Setup a regular 2 axis milling feature and compute the feature to create toolpath.
2.  If the toolpath is not starting in the correct location then right click on "Default Chain Start Point" 
3.  Select the Modify option in the popup window that appears.
4.  Click into the Profile Chains box, which should then highlight the box.
5.  Lastly click on the part of the chain where the user wishes the toolpath to start at and then hit Ok.
6.  Now recompute the toolpath, and the program should now be starting from the location that was selected in the previous step.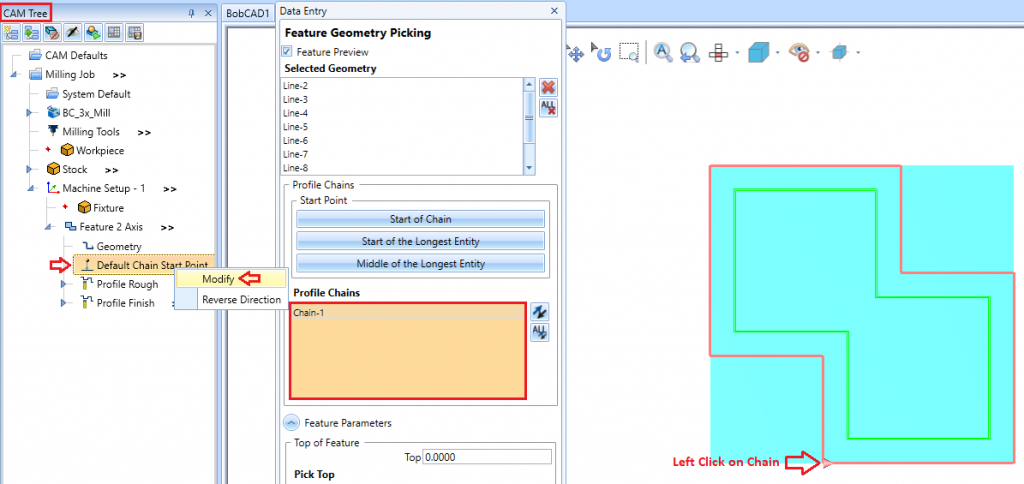 Note:  This article will only worked for the Mill 2 Axis Operations: Profile Rough, Profile Finish, Engraving, Chamfer Mill, Corner Rounding, and Drag Knife
If you need further assistance, please contact our support team at (727) 489 – 0003 or [email protected]