Turn On / Off or Reset Missing Window Panes (Tree Disappeared)
If you are missing a CAM Tree, Posting window, CAD Tree or any of the 11 available window panes inside of BobCAD-CAM, this document will cover how to turn those windows off and on or will show you how to get them back if they appear to be missing.
Turn Window Panes On / Off
As shown in the picture below, there is a "X" button at the top right of every Window Pane. This button controls the visibility of this window. If you click this button, it will simply hide that window (It does not Cancel an ongoing function).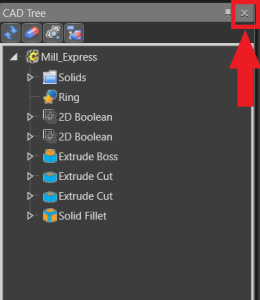 To view the visibility of these Windows, right-click anywhere in the top ribbon of the software (This shows a list of all 11 window panes and denotes by a green checkmark for ON and no checkmark for OFF). To turn a certain window back on, simply select the window in the list that is turned off (as shown in the picture below).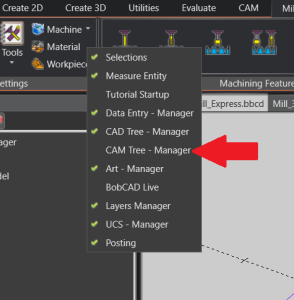 How to Reset Window Panes
Sometimes, these Windows may need to be reset if the visibility of a Window is turned on, but you are still unable to see the Window.
To Reset the Window Panes and get the missing windows back, Go to File > User Profile. Then, Right-click on one of the Profile Layouts that you like and select "Load" (See pic below).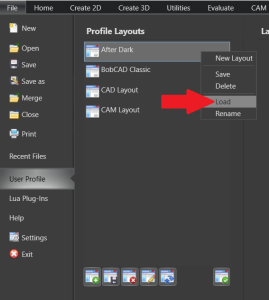 Note: You can save out custom layouts as well. To do this, setup the window panes inside of the software to your liking. When completed, go back to File > User Profile and click the Green Plus icon (located directly below the current "Profile Layouts"). Then, you can right-click on the new layout that got created and rename it (See pic below).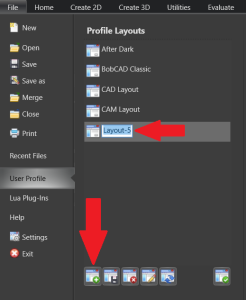 If you need further assistance, please contact our support team at (727) 489 – 0003 or [email protected]
Created: February 25, 2022