Error When Posting - CLF Not Found
When selecting Post or Post and Save As… you may get an error that says, "CLF file not found". Follow the steps below to help fix this error.
Solution 1:
Make sure the correct post processor is selected.
1. In the CAM Tree, right-click on the Post Processor (Expand the machine name to see the post processor.)
2. Click Edit, then Select.
3. Select the desired post processor. Then, click Open.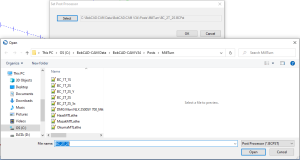 Solution 2:
The NC File Path could set to the wrong directory. To change the file path follow steps below:
1. Right-click on CAM Defaults at the top of the CAM Tree and select Current Settings.
2. Select Posting in the left-hand column. Then, click Select under NC File Path.
3. Navigate to and choose the folder file path listed as follows:
C:\BobCAD-CAM Data\BobCAD-CAM V(Current Version)\NC\(Machine Type)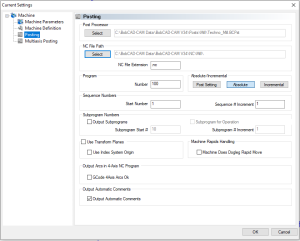 Note: Also, make sure the file path for the post processor  (On this Posting Page) is correct as well:
C:\BobCAD-CAM Data\BobCAD-CAM V(Current Version)\Posts\(Machine Type)
4. Click OK
If you need further assistance, please contact our support team at (727) 489 – 0003 or [email protected]