Error When Posting - CLF Not Found
When you get a CLF error after trying to post out a job, that usually means that your NC File Path is not setup right. The software is trying to find the temporary CL file that gets created in that folder. If that file path does not exist or can't be found, this error will pop-up: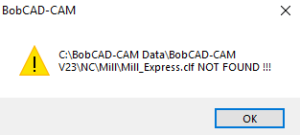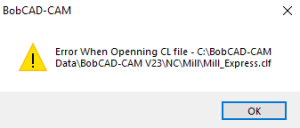 Error Description: clf NOT FOUND !!! and/or Error When Openning CL file - .clf
The Solution:
Make sure the NC File Path is set to a local folder on your computer.
1. In the CAM Tree, right-click on "(Machine Type) Job" (Milling Job in this example) and select Current Settings

2. Navigate to the "Posting" tab and check the NC File Path directory location
Make sure the BobCAD-CAM Data folder location is going to the current version of the software you are in.

3. Hit Select under NC File Path and Set the directory location to a local folder on the computer. Click OK when done
We recommend setting it inside the Data folder here: C:\BobCAD-CAM Data\BobCAD-CAM V(Current Version)\NC\(Machine Type)

You should now be able to repost the job. This just changes the location for that one job.
To change the Default location for your Machine:
4. Right-Click on "CAM Defaults" in the CAM Tree and select Current Settings
5. Select your Machine from the Make Drop-down box

6. Repeat Steps 2 and 3
Other Possible Issue:
In the Current Settings > Posting tab, the File Extension field is missing the "." in front of the extension. The Solution is the add a "." to the beginning of that field.

If you need further assistance, please contact our support team at (727) 489 – 0003 or [email protected]