Disable Data Collection
Data Collection in BobCAD is used to help our team understand what features of the software are being utilized the and help improve the software. The data is collected anonymously, meaning that we cannot tie any data back to any specific user.
For more information about Data Collection in BobCAD-CAM, go here: https://bobcad.com/privacy/software-usage/
If you would like to disable to option, follow the steps below:
Step-by-Step
1. From the home screen, click the

Settings icon.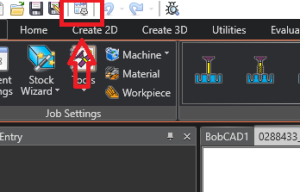 2. Next, Uncheck the box in the Data Collection section. Then, click Apply and OK.

If you need further assistance, please contact our support team at (727) 489 – 0003 or [email protected]