Defining an Open pocket
Cutting an open pocket is useful if you need to start the cut from outside of your stock. Below is an example of an open pocket.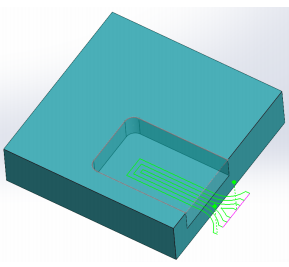 Key steps to be able to create an open pocket toolpath:
1.  Right click on the machine setup and create a Mill 2 axis feature
2.  There are 2 different types of geometry that can be selected for this type of cut.
Select the bottom surface
Create a sketch that uses Construction lines to define the open edge *(see next section)
3.  On the Patterns page select 'Advanced Pocket' and pick your desired cut pattern
*Creating a Construction line in SolidWorks:
1.  Edit the sketch with the pocket geometry
2.  Click on all of the lines or arcs that identify the open edge
3.  Check the box 'For Construction'
4.  Click the green check mark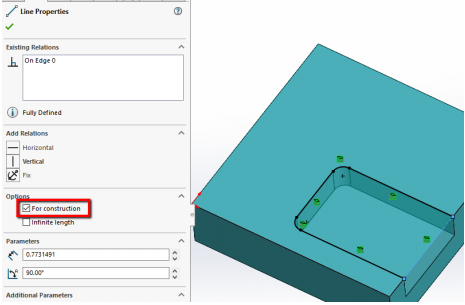 If you need further assistance, please contact our support team at (727) 489 – 0003 or [email protected]