Change File Extension for a NC File
When posting out a program inside of BobCAD and saving out the NC file, you may notice that the "Save as type:" isn't set to what you need. Usually, the default file extension is set to ".nc". This article will take you through the steps on how to change this file extension inside of BobCAD and default it to a different extension.
Step-by-Step
Change on File Level:
1. Navigate to the "CAM Tree" and right-click on "Milling Job"
2. Select Current Settings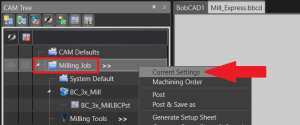 3. Inside the "Posting" tab on the left-hand column, you should find the "NC File Extension" box. Change the file extension to what your machine controller accepts. Click OK when done.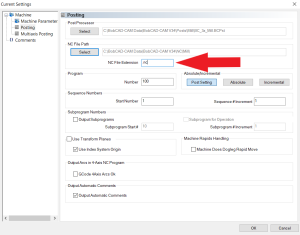 Note: Make sure to include a "." before the text.
Note: If your machine does not accept a file extension (File type in "File Explorer" would just say, "file"), you will want to put a "." Followed by a space (Example: ". ") in the NC File Extension box inside of BobCAD.
In V34, we do also allow the posting of APT format as well. To post out the program in APT format, set this NC File Extension box to .apt
Change on Default Job Level:
4. Navigate to the "CAM Tree" and right-click on "CAM Defaults"
5. Select Current Settings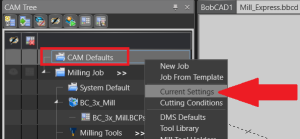 6. Repeat Step 3 from previous section
If you need further assistance, please contact our support team at (727) 489 – 0003 or [email protected]